Happy Kids Timer is a mobile app that has helped many families. Number of our fans keeps growing. Especially parents with kids diagnosed with ADHD say that the app is a lifesaver. If you prefer a printable checklist we created a free printable morning routine chart in Happy Kids Timer style. For your convenience, the chart is available with a girl and boy theme.
The chart will remind your children what should they do in the morning. You don't have to do it anymore and they won't forget anything!
Download Free Printable Morning Chore Chart
Get high quality PDF version of Morning routine chart – girl version (click the link below thumbnail):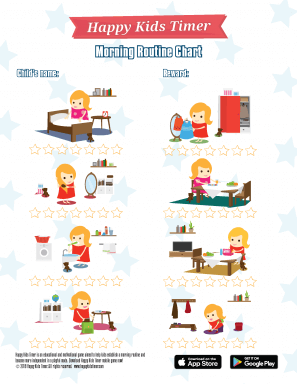 Get high quality PDF version of Morning routine chart – boy version: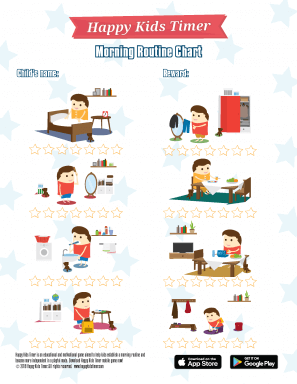 Happy Kids Timer
Happy Kids Timer is an educational and motivation game aimed to help kids establish morning routine and become more independent in a playful mode. The app contains 8 of the most common morning chores with appealing animations and emotionally uplifting music. Your child operates the app and carries the mobile device with him/her to each room where carries out the task. Your kid collects stars for each successfully completed activity within a defined time and is awarded by you after an agreed upon number of stars are collected.
Happy Kids Timer Morning is available on App store and Google Play. Download now!