Establish a morning or evening routine for kids without stress
Let Happy Kids Timer app to teach your children to make the bed, brush teeth, eat breakfast or pack the lunch box. Does it sound like a dream to you?
Happy Kids Timer Chores App
The game comes with 8 common morning chores and is a great motivational mean for kids from the very start of their day. Recently, for your convenience we added a bedtime routine with 7 typical evening chores. The free version of the app allows you going through your routine with predefined settings. Later, you can upgrade the game to a premium version and unlock all features.
Do you struggle every morning to have your children do their daily routine done during coronavirus school closure?
Does your kid hate to do morning chores and bedtime is yet bigger challenge?
Do you have to always remind your kid to make the bed or brush teeth?
Chore checklists or chore charts aren't motivating anymore?
Does your kid forget to walk the dog, feed the cat or gold fish, or even leaves home without keys?
Happy Kids Timer is a visual timer that helps turn the daily drill into a smart game while gently guiding your kids through all of their usual morning or evening routines – until you all are ready to go!
The app is available for iOS and Android. Give it a try! Get the app for tablet or smart phone:
app downloads world-wide so far
countries with happy parents
ratings average from more than 1000 reviews on iTunes
Does the app help kids with ADHD with morning routine?
Read what parents say:
GREAT FOR KIDS WITH ADHD. This app has been a life saver in the mornings. My daughter has ADHD/ODD and staying focused to get ready for school each morning has always been a struggle. Now, with this app she stays focused while getting ready each morning and loves getting a reward when she reaches her goal! Highly recommend.
Hi, I recently purchased this amazing app for my boys aged 4 and 6 years. My six year old was recently diagnosed with ADHD and dyslexia. Mornings used to be a complete nightmare but your app has completely changed our household!!! The boys now look forward to getting ready in the morning. I cannot thankyou enough!!!!!! Fleur
MAKES MORNINGS EASY!!! I used to have to cajole my 4 year old to do each morning task. Usually ended in all of us being late and me frustrated and exasperated. This changes everything! I hand both kids their iPods and they go off and do it all themselves. I don't have to say a word. I want one for at night and for homeschool tasks/ work assignments. I don't set up rewards. Mine are happy to just fill up their star. I made it clear it was not a race. And I set up the tasks so they aren't both fighting over the bathroom at the same time. I added two tasks... Take dishes to the sink and spray and wipe off the table. Haha! I'm in heaven. I love our mornings
KIDS LOVE IT! Each kid has the app on their device, and they compete who will finish first in the morning! However it would be practical to have the same app run several customized time runs for separate children, simultaneously, perhaps in a side by side screen or something like that. My son wants to know if there are plans to do a nighttime routine timer also? I think that would be a great idea. Also could there be a "grownup" version? I could use this myself for my own routines!
A must-have morning chores app for kids as featured on media:
---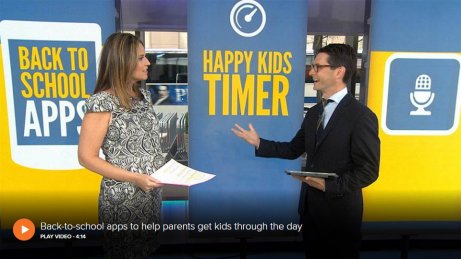 TODAY'S TECH online TV show
by show host & guest Jason Tanz, WIRED Editor-at-large
APP-TO-SCHOOL
September 1st, 2016: Happy Kids Timer featured among editor's pick of fun and helpful apps for kids as a best tech to help get your kids out the door.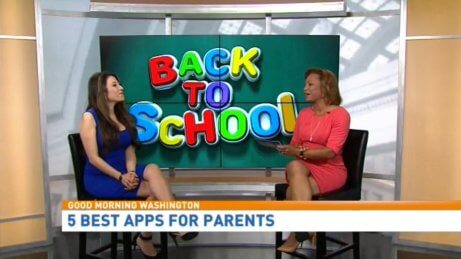 WJLA / ABC7 's TV show online
by GOOD MORNING WASHINGTON
5 BEST APPS FOR PARENTING
August 9th, 2016:  "...help is just a click away with many free apps currently available" - show's guest Janet Alvarez of Wisebread.com showed Happy Kids Timer as one of the five of the best apps for parents.